2019- 2020 Creative Sewing Workshops
"Creativity is contagious, pass it on" ~ Albert Einstein
Our workshops have been designed for all level quilters and sewers. Come share your tips and we will learn together. There are no bad techniques, just those we all desire to learn and share.
Up-Cycled Flannel or Wool Shirt Bag
Saturday and Sunday 11-3
December 7 and 8, 2019
We Are So Sorry But This Class Is Now FULL
What a fun project! This Tote/Purse/Bag is easy to make and is made using an recycled Flannel or Wool Shirt. I would love to receive this as a gift too! And with Christmas right around the corner the timing for this class is perfect. The class fee includes the instruction, pattern and your choice of leatherette handles. So gather your machine and sewing tools, and old Flannel shirt and a yard of fabric for the lining and come join us.
This class will fill quickly and is limited to 8. Fee $45 Level: Beginner
The Midi Bag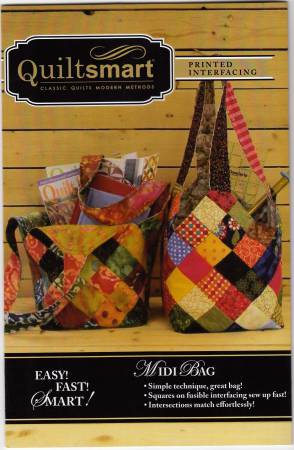 Saturday and Sunday 11-3
January 11 and 12, 2020
The Midi Bag class includes 2 Pre Printed interface panels and the pattern ($18.95 retail value).
You will need 108 - 2.5" squares for this project, so you can cut your own or the Moda Mini Charms are perfect for this project. You will also need 3/4 yard of a lining fabric. This is a really fun and easy system and you will want to make more of the many QS projects offered. We carry many Moda Min Charms as well as QS patterns at the shop. This bag finishes at 8" x 8" X 12".
Our classes fill very quickly, so register soon. Class Fee $45 Level: Intermediate
Classy Cork Tote- Able
Sunday 11-4
February 9, 2020
Choose from our collection of Cork fabrics to create this Classy Tote. You will need approximately 1/2 yard cork and 1/2 yard lining fabric. The class includes a "Handmade" Medal Accent piece and the pattern. Come learn how easy it is to sew with Cork! You will love the stability of this tote and love the comments you will get when others notice it. Makes a great gift for new moms! This tote is advertised for $195 retail but you can make it for a fraction of that cost.
This class will fill quickly and is limited to 8. Fee $30 Level: Beginner
Charm Party Tote About
Saturday and Sunday 11-3
March 14 and 15, 2020
Grab a stack of 5in squares and a yard of coordinating fabric and you will have a tote bag in no time! There are two large pockets on the inside and a little envelope style pocket on the outside. The bag measures 11" X 14" X 4" finished making it the perfect size for shopping, class and new moms. This bag retails for $95 all day! This class project includes the pattern to make the bag.
Our classes fill very quickly, so register soon. Class Fee $30 Level: Intermediate
Watch For More Classes Like These!
We repeat many classes that have been popular and requested so be sure to check back often.
Check Out Some Of Our Completed Projects
Free Style Needle Felted Bag
Saturday September 28, 2019
11-2
A 100% Wool Sweater washed and dried (felted) is required. Fee $35
Using Wool Roving we will design and create a beautiful Wool hand bag from an up cycled wool sweater. We will have all kinds of great designs and roving to complete your project. We will supply all the notions for felting your piece and the pattern to complete the construction of the bag.
Barn Quilt
To Be Announced This Fall
Boards must be picked up and prepped in advance. You will need to supply your own paint and brushes. Frog tape and a hair drier (or we can share) are required.

What a great way to add character to a barn, garden shed, garage or even your home! Barn Quilts have become the new and we are on it. Learn what materials are required, how to prep and layout your design then paint and finish your quilt. The fee includes the wood for your Barn Quilt. Fee $65